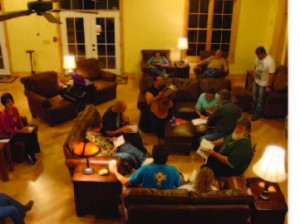 Camp Kernop is Metro Baptist Association's Christian camp in northern Madison County, in the Camden community. In 1997, Mrs. Nettie Marie Kernop, from the Camden community, gave the association 200 acres of land. She wanted a Christian Children's Camp built on this property.
Due to the lack of funds, the land sat dormant until 2007. At this time, we received the architectural drawing for the camp. In January, 2007 she told us to expect a call from her banker, as she had some money for us to start the camp development, which he desired to have for children to come to the Lord. The amount Mrs. Kernop gave the association to begin development of the camp was $431,000. Three months later, Mrs. Kernop passed away suddenly at 93 years old.
The lodge is finished now and used by many of our MBA churches. The pavilion is in process and will be used for youth and children. Eventually, there will be cabins constructed for overnight use by the children and youth.
For reservations, contact Telisa Ital at Metro Baptist Association, 601-362-8676 or tital@metroba.org
Guidelines and Information
We are glad that you have chosen to use Camp Kernop. Here are a few guidelines that might help you have an enjoyable experience.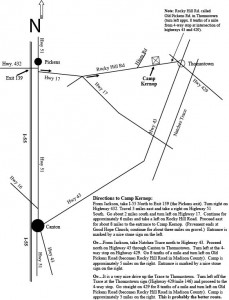 Depending on your starting point, the Natchez Trace option is the better option—good highway, scenically beautiful, and requires the shortest distance on a gravel road (and it is in better condition on the Leake county side than is the Madison route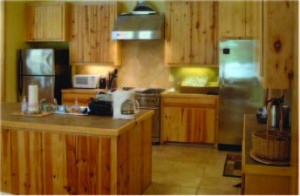 We have a well-equipped kitchen with a Viking propane range, refrigerator, freezer, ice-maker, dishwasher. You have available a good set of pots, pans, baking sheets, a large Crock pot, an electric skillet, three 12 x 18 pans 4 inches deep, two 12 x 18 pans 2 inches deep, knives and other cooking and serving utensils. We have two gas grills, three charcoal grills, as well as tongs, brushes, spatulas.
You will need to bring all paper products: plates, napkins, paper towels, plastic eating utensils. Also, bring all the food, drinks, condiments, and seasonings. The nearest store is five miles from the camp and it has limited supplies and it is only open during the day. If you want to eat it, bring it.
We have 13 bunk beds (26 twins beds) in three bedrooms: 5 bunks in one room and 4 each in the other rooms. These beds have been designed so that each has a comfortable ladder with a platform on which to stand. This allows a person safety while getting into and out of the top bunk. Each person will need to bring bed linens and pillows. Many find a sleeping bag the simplest option.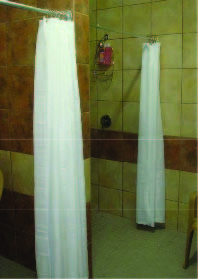 We have two bathrooms available. These are each equipped with two showers. Although we have shampoo and body wash available, you will need to bring your personal toiletries and towels.
We have a 4′ x 6′ white board mounted on a rolling stand. Markers and an eraser are provided. We have a 6′ screen for data projection. Bring your own lap-tops or devices and a projector.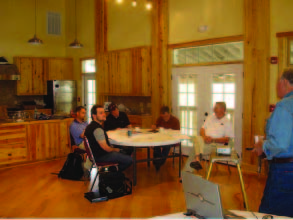 We have five 5′ round tables and twenty-five padded chairs presently for the dining/conference area.
We also have a very comfortable furnishings around the fireplace.
We provide garbage bags, cleaning equipment and resources, Swiffers, and a vacuum cleaner. The rule is mess-it-up; clean-it-up. Pack out any garbage you have. Leave the camp ready for the next group. This is our camp. We have been blessed with a marvelous resource. We are the caretakers and stewards of it.
Due to insurance restrictions, no ATV's or other recreational vehicles are permitted at the camp. Also, no pets are allowed in the Lodge.
If you have other questions, please call us at Metro Baptist Association: 601-362-8676.